{"id":4462831829086,"title":"Deep V-Neck Floral Print Maxi Dresses","handle":"deep-v-neck-floral-print-maxi-dresses","description":"\u003cul class=\"a-unordered-list a-vertical a-spacing-none\"\u003e\n\u003cli\u003e\u003cspan class=\"a-list-item\"\u003e[DEEP V-NECK DESIGN]: V-NECK neckline, cross back, Elastic material. Every Detail Design Will Let You More Fashionable and Charming\u003c\/span\u003e\u003c\/li\u003e\n\u003cli\u003e\u003cspan class=\"a-list-item\"\u003e[MATERIAL]: Polyester\u0026amp;Spandex.extremely soft material will make you feel soft and comfortable,no harm for your skin.\u003c\/span\u003e\u003c\/li\u003e\n\u003c\/ul\u003e","published_at":"2020-03-13T21:43:31+08:00","created_at":"2020-03-13T21:29:27+08:00","vendor":"CA Mode","type":"","tags":["2020dress","2020新款","New"],"price":2599,"price_min":2599,"price_max":2599,"available":true,"price_varies":false,"compare_at_price":3699,"compare_at_price_min":3699,"compare_at_price_max":3699,"compare_at_price_varies":false,"variants":[{"id":31486216732766,"title":"Black \/ S","option1":"Black","option2":"S","option3":null,"sku":"DL001471-11","requires_shipping":true,"taxable":false,"featured_image":{"id":13727784435806,"product_id":4462831829086,"position":3,"created_at":"2020-03-13T21:29:59+08:00","updated_at":"2020-03-17T18:05:18+08:00","alt":null,"width":1001,"height":1001,"src":"https:\/\/cdn.shopify.com\/s\/files\/1\/2553\/4640\/products\/11202732656_778880422.jpg?v=1584439518","variant_ids":[31486216732766,31486216765534,31486216798302,31486216831070,31486216863838]},"available":true,"name":"Deep V-Neck Floral Print Maxi Dresses - Black \/ S","public_title":"Black \/ S","options":["Black","S"],"price":2599,"weight":0,"compare_at_price":3699,"inventory_quantity":-12,"inventory_management":null,"inventory_policy":"deny","barcode":null,"featured_media":{"alt":null,"id":5899652005982,"position":3,"preview_image":{"aspect_ratio":1.0,"height":1001,"width":1001,"src":"https:\/\/cdn.shopify.com\/s\/files\/1\/2553\/4640\/products\/11202732656_778880422.jpg?v=1584106199"}}},{"id":31486216765534,"title":"Black \/ M","option1":"Black","option2":"M","option3":null,"sku":"DL001471-12","requires_shipping":true,"taxable":false,"featured_image":{"id":13727784435806,"product_id":4462831829086,"position":3,"created_at":"2020-03-13T21:29:59+08:00","updated_at":"2020-03-17T18:05:18+08:00","alt":null,"width":1001,"height":1001,"src":"https:\/\/cdn.shopify.com\/s\/files\/1\/2553\/4640\/products\/11202732656_778880422.jpg?v=1584439518","variant_ids":[31486216732766,31486216765534,31486216798302,31486216831070,31486216863838]},"available":true,"name":"Deep V-Neck Floral Print Maxi Dresses - Black \/ M","public_title":"Black \/ M","options":["Black","M"],"price":2599,"weight":0,"compare_at_price":3699,"inventory_quantity":-21,"inventory_management":null,"inventory_policy":"deny","barcode":null,"featured_media":{"alt":null,"id":5899652005982,"position":3,"preview_image":{"aspect_ratio":1.0,"height":1001,"width":1001,"src":"https:\/\/cdn.shopify.com\/s\/files\/1\/2553\/4640\/products\/11202732656_778880422.jpg?v=1584106199"}}},{"id":31486216798302,"title":"Black \/ L","option1":"Black","option2":"L","option3":null,"sku":"DL001471-13","requires_shipping":true,"taxable":false,"featured_image":{"id":13727784435806,"product_id":4462831829086,"position":3,"created_at":"2020-03-13T21:29:59+08:00","updated_at":"2020-03-17T18:05:18+08:00","alt":null,"width":1001,"height":1001,"src":"https:\/\/cdn.shopify.com\/s\/files\/1\/2553\/4640\/products\/11202732656_778880422.jpg?v=1584439518","variant_ids":[31486216732766,31486216765534,31486216798302,31486216831070,31486216863838]},"available":true,"name":"Deep V-Neck Floral Print Maxi Dresses - Black \/ L","public_title":"Black \/ L","options":["Black","L"],"price":2599,"weight":0,"compare_at_price":3699,"inventory_quantity":-14,"inventory_management":null,"inventory_policy":"deny","barcode":null,"featured_media":{"alt":null,"id":5899652005982,"position":3,"preview_image":{"aspect_ratio":1.0,"height":1001,"width":1001,"src":"https:\/\/cdn.shopify.com\/s\/files\/1\/2553\/4640\/products\/11202732656_778880422.jpg?v=1584106199"}}},{"id":31486216831070,"title":"Black \/ XL","option1":"Black","option2":"XL","option3":null,"sku":"DL001471-14","requires_shipping":true,"taxable":false,"featured_image":{"id":13727784435806,"product_id":4462831829086,"position":3,"created_at":"2020-03-13T21:29:59+08:00","updated_at":"2020-03-17T18:05:18+08:00","alt":null,"width":1001,"height":1001,"src":"https:\/\/cdn.shopify.com\/s\/files\/1\/2553\/4640\/products\/11202732656_778880422.jpg?v=1584439518","variant_ids":[31486216732766,31486216765534,31486216798302,31486216831070,31486216863838]},"available":true,"name":"Deep V-Neck Floral Print Maxi Dresses - Black \/ XL","public_title":"Black \/ XL","options":["Black","XL"],"price":2599,"weight":0,"compare_at_price":3699,"inventory_quantity":-8,"inventory_management":null,"inventory_policy":"deny","barcode":null,"featured_media":{"alt":null,"id":5899652005982,"position":3,"preview_image":{"aspect_ratio":1.0,"height":1001,"width":1001,"src":"https:\/\/cdn.shopify.com\/s\/files\/1\/2553\/4640\/products\/11202732656_778880422.jpg?v=1584106199"}}},{"id":31486216863838,"title":"Black \/ XXL","option1":"Black","option2":"XXL","option3":null,"sku":"DL001471-15","requires_shipping":true,"taxable":false,"featured_image":{"id":13727784435806,"product_id":4462831829086,"position":3,"created_at":"2020-03-13T21:29:59+08:00","updated_at":"2020-03-17T18:05:18+08:00","alt":null,"width":1001,"height":1001,"src":"https:\/\/cdn.shopify.com\/s\/files\/1\/2553\/4640\/products\/11202732656_778880422.jpg?v=1584439518","variant_ids":[31486216732766,31486216765534,31486216798302,31486216831070,31486216863838]},"available":true,"name":"Deep V-Neck Floral Print Maxi Dresses - Black \/ XXL","public_title":"Black \/ XXL","options":["Black","XXL"],"price":2599,"weight":0,"compare_at_price":3699,"inventory_quantity":-6,"inventory_management":null,"inventory_policy":"deny","barcode":null,"featured_media":{"alt":null,"id":5899652005982,"position":3,"preview_image":{"aspect_ratio":1.0,"height":1001,"width":1001,"src":"https:\/\/cdn.shopify.com\/s\/files\/1\/2553\/4640\/products\/11202732656_778880422.jpg?v=1584106199"}}},{"id":31486216896606,"title":"Blue \/ S","option1":"Blue","option2":"S","option3":null,"sku":"DL001471-71","requires_shipping":true,"taxable":false,"featured_image":{"id":13727784009822,"product_id":4462831829086,"position":7,"created_at":"2020-03-13T21:29:44+08:00","updated_at":"2020-03-17T18:05:18+08:00","alt":null,"width":1001,"height":1001,"src":"https:\/\/cdn.shopify.com\/s\/files\/1\/2553\/4640\/products\/11266340210_778880422.jpg?v=1584439518","variant_ids":[31486216896606,31486216929374,31486216962142,31486216994910,31486217027678]},"available":true,"name":"Deep V-Neck Floral Print Maxi Dresses - Blue \/ S","public_title":"Blue \/ S","options":["Blue","S"],"price":2599,"weight":0,"compare_at_price":3699,"inventory_quantity":0,"inventory_management":null,"inventory_policy":"deny","barcode":null,"featured_media":{"alt":null,"id":5899651579998,"position":7,"preview_image":{"aspect_ratio":1.0,"height":1001,"width":1001,"src":"https:\/\/cdn.shopify.com\/s\/files\/1\/2553\/4640\/products\/11266340210_778880422.jpg?v=1584106184"}}},{"id":31486216929374,"title":"Blue \/ M","option1":"Blue","option2":"M","option3":null,"sku":"DL001471-72","requires_shipping":true,"taxable":false,"featured_image":{"id":13727784009822,"product_id":4462831829086,"position":7,"created_at":"2020-03-13T21:29:44+08:00","updated_at":"2020-03-17T18:05:18+08:00","alt":null,"width":1001,"height":1001,"src":"https:\/\/cdn.shopify.com\/s\/files\/1\/2553\/4640\/products\/11266340210_778880422.jpg?v=1584439518","variant_ids":[31486216896606,31486216929374,31486216962142,31486216994910,31486217027678]},"available":true,"name":"Deep V-Neck Floral Print Maxi Dresses - Blue \/ M","public_title":"Blue \/ M","options":["Blue","M"],"price":2599,"weight":0,"compare_at_price":3699,"inventory_quantity":-2,"inventory_management":null,"inventory_policy":"deny","barcode":null,"featured_media":{"alt":null,"id":5899651579998,"position":7,"preview_image":{"aspect_ratio":1.0,"height":1001,"width":1001,"src":"https:\/\/cdn.shopify.com\/s\/files\/1\/2553\/4640\/products\/11266340210_778880422.jpg?v=1584106184"}}},{"id":31486216962142,"title":"Blue \/ L","option1":"Blue","option2":"L","option3":null,"sku":"DL001471-73","requires_shipping":true,"taxable":false,"featured_image":{"id":13727784009822,"product_id":4462831829086,"position":7,"created_at":"2020-03-13T21:29:44+08:00","updated_at":"2020-03-17T18:05:18+08:00","alt":null,"width":1001,"height":1001,"src":"https:\/\/cdn.shopify.com\/s\/files\/1\/2553\/4640\/products\/11266340210_778880422.jpg?v=1584439518","variant_ids":[31486216896606,31486216929374,31486216962142,31486216994910,31486217027678]},"available":true,"name":"Deep V-Neck Floral Print Maxi Dresses - Blue \/ L","public_title":"Blue \/ L","options":["Blue","L"],"price":2599,"weight":0,"compare_at_price":3699,"inventory_quantity":-1,"inventory_management":null,"inventory_policy":"deny","barcode":null,"featured_media":{"alt":null,"id":5899651579998,"position":7,"preview_image":{"aspect_ratio":1.0,"height":1001,"width":1001,"src":"https:\/\/cdn.shopify.com\/s\/files\/1\/2553\/4640\/products\/11266340210_778880422.jpg?v=1584106184"}}},{"id":31486216994910,"title":"Blue \/ XL","option1":"Blue","option2":"XL","option3":null,"sku":"DL001471-74","requires_shipping":true,"taxable":false,"featured_image":{"id":13727784009822,"product_id":4462831829086,"position":7,"created_at":"2020-03-13T21:29:44+08:00","updated_at":"2020-03-17T18:05:18+08:00","alt":null,"width":1001,"height":1001,"src":"https:\/\/cdn.shopify.com\/s\/files\/1\/2553\/4640\/products\/11266340210_778880422.jpg?v=1584439518","variant_ids":[31486216896606,31486216929374,31486216962142,31486216994910,31486217027678]},"available":true,"name":"Deep V-Neck Floral Print Maxi Dresses - Blue \/ XL","public_title":"Blue \/ XL","options":["Blue","XL"],"price":2599,"weight":0,"compare_at_price":3699,"inventory_quantity":-2,"inventory_management":null,"inventory_policy":"deny","barcode":null,"featured_media":{"alt":null,"id":5899651579998,"position":7,"preview_image":{"aspect_ratio":1.0,"height":1001,"width":1001,"src":"https:\/\/cdn.shopify.com\/s\/files\/1\/2553\/4640\/products\/11266340210_778880422.jpg?v=1584106184"}}},{"id":31486217027678,"title":"Blue \/ XXL","option1":"Blue","option2":"XXL","option3":null,"sku":"DL001471-75","requires_shipping":true,"taxable":false,"featured_image":{"id":13727784009822,"product_id":4462831829086,"position":7,"created_at":"2020-03-13T21:29:44+08:00","updated_at":"2020-03-17T18:05:18+08:00","alt":null,"width":1001,"height":1001,"src":"https:\/\/cdn.shopify.com\/s\/files\/1\/2553\/4640\/products\/11266340210_778880422.jpg?v=1584439518","variant_ids":[31486216896606,31486216929374,31486216962142,31486216994910,31486217027678]},"available":true,"name":"Deep V-Neck Floral Print Maxi Dresses - Blue \/ XXL","public_title":"Blue \/ XXL","options":["Blue","XXL"],"price":2599,"weight":0,"compare_at_price":3699,"inventory_quantity":-1,"inventory_management":null,"inventory_policy":"deny","barcode":null,"featured_media":{"alt":null,"id":5899651579998,"position":7,"preview_image":{"aspect_ratio":1.0,"height":1001,"width":1001,"src":"https:\/\/cdn.shopify.com\/s\/files\/1\/2553\/4640\/products\/11266340210_778880422.jpg?v=1584106184"}}},{"id":31486217060446,"title":"White \/ S","option1":"White","option2":"S","option3":null,"sku":"DL001471-21","requires_shipping":true,"taxable":false,"featured_image":{"id":13727784697950,"product_id":4462831829086,"position":11,"created_at":"2020-03-13T21:30:16+08:00","updated_at":"2020-03-17T18:05:12+08:00","alt":null,"width":1001,"height":1001,"src":"https:\/\/cdn.shopify.com\/s\/files\/1\/2553\/4640\/products\/11266337025_778880422.jpg?v=1584439512","variant_ids":[31486217060446,31486217093214,31486217125982,31486217158750,31486217191518]},"available":true,"name":"Deep V-Neck Floral Print Maxi Dresses - White \/ S","public_title":"White \/ S","options":["White","S"],"price":2599,"weight":0,"compare_at_price":3699,"inventory_quantity":0,"inventory_management":null,"inventory_policy":"deny","barcode":null,"featured_media":{"alt":null,"id":5899652268126,"position":11,"preview_image":{"aspect_ratio":1.0,"height":1001,"width":1001,"src":"https:\/\/cdn.shopify.com\/s\/files\/1\/2553\/4640\/products\/11266337025_778880422.jpg?v=1584106216"}}},{"id":31486217093214,"title":"White \/ M","option1":"White","option2":"M","option3":null,"sku":"DL001471-22","requires_shipping":true,"taxable":false,"featured_image":{"id":13727784697950,"product_id":4462831829086,"position":11,"created_at":"2020-03-13T21:30:16+08:00","updated_at":"2020-03-17T18:05:12+08:00","alt":null,"width":1001,"height":1001,"src":"https:\/\/cdn.shopify.com\/s\/files\/1\/2553\/4640\/products\/11266337025_778880422.jpg?v=1584439512","variant_ids":[31486217060446,31486217093214,31486217125982,31486217158750,31486217191518]},"available":true,"name":"Deep V-Neck Floral Print Maxi Dresses - White \/ M","public_title":"White \/ M","options":["White","M"],"price":2599,"weight":0,"compare_at_price":3699,"inventory_quantity":-1,"inventory_management":null,"inventory_policy":"deny","barcode":null,"featured_media":{"alt":null,"id":5899652268126,"position":11,"preview_image":{"aspect_ratio":1.0,"height":1001,"width":1001,"src":"https:\/\/cdn.shopify.com\/s\/files\/1\/2553\/4640\/products\/11266337025_778880422.jpg?v=1584106216"}}},{"id":31486217125982,"title":"White \/ L","option1":"White","option2":"L","option3":null,"sku":"DL001471-23","requires_shipping":true,"taxable":false,"featured_image":{"id":13727784697950,"product_id":4462831829086,"position":11,"created_at":"2020-03-13T21:30:16+08:00","updated_at":"2020-03-17T18:05:12+08:00","alt":null,"width":1001,"height":1001,"src":"https:\/\/cdn.shopify.com\/s\/files\/1\/2553\/4640\/products\/11266337025_778880422.jpg?v=1584439512","variant_ids":[31486217060446,31486217093214,31486217125982,31486217158750,31486217191518]},"available":true,"name":"Deep V-Neck Floral Print Maxi Dresses - White \/ L","public_title":"White \/ L","options":["White","L"],"price":2599,"weight":0,"compare_at_price":3699,"inventory_quantity":-1,"inventory_management":null,"inventory_policy":"deny","barcode":null,"featured_media":{"alt":null,"id":5899652268126,"position":11,"preview_image":{"aspect_ratio":1.0,"height":1001,"width":1001,"src":"https:\/\/cdn.shopify.com\/s\/files\/1\/2553\/4640\/products\/11266337025_778880422.jpg?v=1584106216"}}},{"id":31486217158750,"title":"White \/ XL","option1":"White","option2":"XL","option3":null,"sku":"DL001471-24","requires_shipping":true,"taxable":false,"featured_image":{"id":13727784697950,"product_id":4462831829086,"position":11,"created_at":"2020-03-13T21:30:16+08:00","updated_at":"2020-03-17T18:05:12+08:00","alt":null,"width":1001,"height":1001,"src":"https:\/\/cdn.shopify.com\/s\/files\/1\/2553\/4640\/products\/11266337025_778880422.jpg?v=1584439512","variant_ids":[31486217060446,31486217093214,31486217125982,31486217158750,31486217191518]},"available":true,"name":"Deep V-Neck Floral Print Maxi Dresses - White \/ XL","public_title":"White \/ XL","options":["White","XL"],"price":2599,"weight":0,"compare_at_price":3699,"inventory_quantity":-1,"inventory_management":null,"inventory_policy":"deny","barcode":null,"featured_media":{"alt":null,"id":5899652268126,"position":11,"preview_image":{"aspect_ratio":1.0,"height":1001,"width":1001,"src":"https:\/\/cdn.shopify.com\/s\/files\/1\/2553\/4640\/products\/11266337025_778880422.jpg?v=1584106216"}}},{"id":31486217191518,"title":"White \/ XXL","option1":"White","option2":"XXL","option3":null,"sku":"DL001471-25","requires_shipping":true,"taxable":false,"featured_image":{"id":13727784697950,"product_id":4462831829086,"position":11,"created_at":"2020-03-13T21:30:16+08:00","updated_at":"2020-03-17T18:05:12+08:00","alt":null,"width":1001,"height":1001,"src":"https:\/\/cdn.shopify.com\/s\/files\/1\/2553\/4640\/products\/11266337025_778880422.jpg?v=1584439512","variant_ids":[31486217060446,31486217093214,31486217125982,31486217158750,31486217191518]},"available":true,"name":"Deep V-Neck Floral Print Maxi Dresses - White \/ XXL","public_title":"White \/ XXL","options":["White","XXL"],"price":2599,"weight":0,"compare_at_price":3699,"inventory_quantity":0,"inventory_management":null,"inventory_policy":"deny","barcode":null,"featured_media":{"alt":null,"id":5899652268126,"position":11,"preview_image":{"aspect_ratio":1.0,"height":1001,"width":1001,"src":"https:\/\/cdn.shopify.com\/s\/files\/1\/2553\/4640\/products\/11266337025_778880422.jpg?v=1584106216"}}},{"id":31486217224286,"title":"Green \/ S","option1":"Green","option2":"S","option3":null,"sku":"DL001471-41","requires_shipping":true,"taxable":false,"featured_image":{"id":13727784894558,"product_id":4462831829086,"position":16,"created_at":"2020-03-13T21:30:36+08:00","updated_at":"2020-03-17T18:05:12+08:00","alt":null,"width":1000,"height":1000,"src":"https:\/\/cdn.shopify.com\/s\/files\/1\/2553\/4640\/products\/11635063214_778880422.jpg?v=1584439512","variant_ids":[31486217224286,31486217257054,31486217289822,31486217322590,31486217355358]},"available":true,"name":"Deep V-Neck Floral Print Maxi Dresses - Green \/ S","public_title":"Green \/ S","options":["Green","S"],"price":2599,"weight":0,"compare_at_price":3699,"inventory_quantity":0,"inventory_management":null,"inventory_policy":"deny","barcode":null,"featured_media":{"alt":null,"id":5899652464734,"position":16,"preview_image":{"aspect_ratio":1.0,"height":1000,"width":1000,"src":"https:\/\/cdn.shopify.com\/s\/files\/1\/2553\/4640\/products\/11635063214_778880422.jpg?v=1584106236"}}},{"id":31486217257054,"title":"Green \/ M","option1":"Green","option2":"M","option3":null,"sku":"DL001471-42","requires_shipping":true,"taxable":false,"featured_image":{"id":13727784894558,"product_id":4462831829086,"position":16,"created_at":"2020-03-13T21:30:36+08:00","updated_at":"2020-03-17T18:05:12+08:00","alt":null,"width":1000,"height":1000,"src":"https:\/\/cdn.shopify.com\/s\/files\/1\/2553\/4640\/products\/11635063214_778880422.jpg?v=1584439512","variant_ids":[31486217224286,31486217257054,31486217289822,31486217322590,31486217355358]},"available":true,"name":"Deep V-Neck Floral Print Maxi Dresses - Green \/ M","public_title":"Green \/ M","options":["Green","M"],"price":2599,"weight":0,"compare_at_price":3699,"inventory_quantity":-3,"inventory_management":null,"inventory_policy":"deny","barcode":null,"featured_media":{"alt":null,"id":5899652464734,"position":16,"preview_image":{"aspect_ratio":1.0,"height":1000,"width":1000,"src":"https:\/\/cdn.shopify.com\/s\/files\/1\/2553\/4640\/products\/11635063214_778880422.jpg?v=1584106236"}}},{"id":31486217289822,"title":"Green \/ L","option1":"Green","option2":"L","option3":null,"sku":"DL001471-43","requires_shipping":true,"taxable":false,"featured_image":{"id":13727784894558,"product_id":4462831829086,"position":16,"created_at":"2020-03-13T21:30:36+08:00","updated_at":"2020-03-17T18:05:12+08:00","alt":null,"width":1000,"height":1000,"src":"https:\/\/cdn.shopify.com\/s\/files\/1\/2553\/4640\/products\/11635063214_778880422.jpg?v=1584439512","variant_ids":[31486217224286,31486217257054,31486217289822,31486217322590,31486217355358]},"available":true,"name":"Deep V-Neck Floral Print Maxi Dresses - Green \/ L","public_title":"Green \/ L","options":["Green","L"],"price":2599,"weight":0,"compare_at_price":3699,"inventory_quantity":-1,"inventory_management":null,"inventory_policy":"deny","barcode":null,"featured_media":{"alt":null,"id":5899652464734,"position":16,"preview_image":{"aspect_ratio":1.0,"height":1000,"width":1000,"src":"https:\/\/cdn.shopify.com\/s\/files\/1\/2553\/4640\/products\/11635063214_778880422.jpg?v=1584106236"}}},{"id":31486217322590,"title":"Green \/ XL","option1":"Green","option2":"XL","option3":null,"sku":"DL001471-44","requires_shipping":true,"taxable":false,"featured_image":{"id":13727784894558,"product_id":4462831829086,"position":16,"created_at":"2020-03-13T21:30:36+08:00","updated_at":"2020-03-17T18:05:12+08:00","alt":null,"width":1000,"height":1000,"src":"https:\/\/cdn.shopify.com\/s\/files\/1\/2553\/4640\/products\/11635063214_778880422.jpg?v=1584439512","variant_ids":[31486217224286,31486217257054,31486217289822,31486217322590,31486217355358]},"available":true,"name":"Deep V-Neck Floral Print Maxi Dresses - Green \/ XL","public_title":"Green \/ XL","options":["Green","XL"],"price":2599,"weight":0,"compare_at_price":3699,"inventory_quantity":-1,"inventory_management":null,"inventory_policy":"deny","barcode":null,"featured_media":{"alt":null,"id":5899652464734,"position":16,"preview_image":{"aspect_ratio":1.0,"height":1000,"width":1000,"src":"https:\/\/cdn.shopify.com\/s\/files\/1\/2553\/4640\/products\/11635063214_778880422.jpg?v=1584106236"}}},{"id":31486217355358,"title":"Green \/ XXL","option1":"Green","option2":"XXL","option3":null,"sku":"DL001471-45","requires_shipping":true,"taxable":false,"featured_image":{"id":13727784894558,"product_id":4462831829086,"position":16,"created_at":"2020-03-13T21:30:36+08:00","updated_at":"2020-03-17T18:05:12+08:00","alt":null,"width":1000,"height":1000,"src":"https:\/\/cdn.shopify.com\/s\/files\/1\/2553\/4640\/products\/11635063214_778880422.jpg?v=1584439512","variant_ids":[31486217224286,31486217257054,31486217289822,31486217322590,31486217355358]},"available":true,"name":"Deep V-Neck Floral Print Maxi Dresses - Green \/ XXL","public_title":"Green \/ XXL","options":["Green","XXL"],"price":2599,"weight":0,"compare_at_price":3699,"inventory_quantity":-2,"inventory_management":null,"inventory_policy":"deny","barcode":null,"featured_media":{"alt":null,"id":5899652464734,"position":16,"preview_image":{"aspect_ratio":1.0,"height":1000,"width":1000,"src":"https:\/\/cdn.shopify.com\/s\/files\/1\/2553\/4640\/products\/11635063214_778880422.jpg?v=1584106236"}}}],"images":["\/\/cdn.shopify.com\/s\/files\/1\/2553\/4640\/products\/DL001471-11.jpg?v=1584439518","\/\/cdn.shopify.com\/s\/files\/1\/2553\/4640\/products\/11202717860_778880422.jpg?v=1584439518","\/\/cdn.shopify.com\/s\/files\/1\/2553\/4640\/products\/11202732656_778880422.jpg?v=1584439518","\/\/cdn.shopify.com\/s\/files\/1\/2553\/4640\/products\/11202750304_778880422.jpg?v=1584439518","\/\/cdn.shopify.com\/s\/files\/1\/2553\/4640\/products\/11202744196_778880422.jpg?v=1584439518","\/\/cdn.shopify.com\/s\/files\/1\/2553\/4640\/products\/11202711989_778880422.jpg?v=1584439518","\/\/cdn.shopify.com\/s\/files\/1\/2553\/4640\/products\/11266340210_778880422.jpg?v=1584439518","\/\/cdn.shopify.com\/s\/files\/1\/2553\/4640\/products\/11202723738_778880422.jpg?v=1584439518","\/\/cdn.shopify.com\/s\/files\/1\/2553\/4640\/products\/11202702909_778880422_b5d097c9-f66f-40fc-aa9d-b9227362f1a9.jpg?v=1584439512","\/\/cdn.shopify.com\/s\/files\/1\/2553\/4640\/products\/11266316910_778880422_86352899-ff2a-44f8-8a4f-98947ce80190.jpg?v=1584439512","\/\/cdn.shopify.com\/s\/files\/1\/2553\/4640\/products\/11266337025_778880422.jpg?v=1584439512","\/\/cdn.shopify.com\/s\/files\/1\/2553\/4640\/products\/11202708930_778880422.jpg?v=1584439512","\/\/cdn.shopify.com\/s\/files\/1\/2553\/4640\/products\/11565124994_778880422_37ab306f-d7a6-4320-b5a8-1741e94bfcc6.jpg?v=1584439512","\/\/cdn.shopify.com\/s\/files\/1\/2553\/4640\/products\/11565136542_778880422_d04415da-43dd-4790-9d62-3926eed23527.jpg?v=1584439512","\/\/cdn.shopify.com\/s\/files\/1\/2553\/4640\/products\/11565139187_778880422_4c3ca98f-da29-41fa-9d4e-721829627ee5.jpg?v=1584439512","\/\/cdn.shopify.com\/s\/files\/1\/2553\/4640\/products\/11635063214_778880422.jpg?v=1584439512","\/\/cdn.shopify.com\/s\/files\/1\/2553\/4640\/products\/11635030701_778880422.jpg?v=1584439512","\/\/cdn.shopify.com\/s\/files\/1\/2553\/4640\/products\/11666438175_778880422.jpg?v=1584439512"],"featured_image":"\/\/cdn.shopify.com\/s\/files\/1\/2553\/4640\/products\/DL001471-11.jpg?v=1584439518","options":["Color","Size"],"media":[{"alt":null,"id":5904901341278,"position":1,"preview_image":{"aspect_ratio":0.75,"height":1200,"width":900,"src":"https:\/\/cdn.shopify.com\/s\/files\/1\/2553\/4640\/products\/DL001471-11.jpg?v=1584439490"},"aspect_ratio":0.75,"height":1200,"media_type":"image","src":"https:\/\/cdn.shopify.com\/s\/files\/1\/2553\/4640\/products\/DL001471-11.jpg?v=1584439490","width":900},{"alt":null,"id":5899651973214,"position":2,"preview_image":{"aspect_ratio":1.0,"height":1001,"width":1001,"src":"https:\/\/cdn.shopify.com\/s\/files\/1\/2553\/4640\/products\/11202717860_778880422.jpg?v=1584106195"},"aspect_ratio":1.0,"height":1001,"media_type":"image","src":"https:\/\/cdn.shopify.com\/s\/files\/1\/2553\/4640\/products\/11202717860_778880422.jpg?v=1584106195","width":1001},{"alt":null,"id":5899652005982,"position":3,"preview_image":{"aspect_ratio":1.0,"height":1001,"width":1001,"src":"https:\/\/cdn.shopify.com\/s\/files\/1\/2553\/4640\/products\/11202732656_778880422.jpg?v=1584106199"},"aspect_ratio":1.0,"height":1001,"media_type":"image","src":"https:\/\/cdn.shopify.com\/s\/files\/1\/2553\/4640\/products\/11202732656_778880422.jpg?v=1584106199","width":1001},{"alt":null,"id":5899652169822,"position":4,"preview_image":{"aspect_ratio":1.0,"height":1001,"width":1001,"src":"https:\/\/cdn.shopify.com\/s\/files\/1\/2553\/4640\/products\/11202750304_778880422.jpg?v=1584106203"},"aspect_ratio":1.0,"height":1001,"media_type":"image","src":"https:\/\/cdn.shopify.com\/s\/files\/1\/2553\/4640\/products\/11202750304_778880422.jpg?v=1584106203","width":1001},{"alt":null,"id":5899651285086,"position":5,"preview_image":{"aspect_ratio":0.75,"height":1200,"width":900,"src":"https:\/\/cdn.shopify.com\/s\/files\/1\/2553\/4640\/products\/11202744196_778880422.jpg?v=1584106177"},"aspect_ratio":0.75,"height":1200,"media_type":"image","src":"https:\/\/cdn.shopify.com\/s\/files\/1\/2553\/4640\/products\/11202744196_778880422.jpg?v=1584106177","width":900},{"alt":null,"id":5899651547230,"position":6,"preview_image":{"aspect_ratio":1.0,"height":1001,"width":1001,"src":"https:\/\/cdn.shopify.com\/s\/files\/1\/2553\/4640\/products\/11202711989_778880422.jpg?v=1584106181"},"aspect_ratio":1.0,"height":1001,"media_type":"image","src":"https:\/\/cdn.shopify.com\/s\/files\/1\/2553\/4640\/products\/11202711989_778880422.jpg?v=1584106181","width":1001},{"alt":null,"id":5899651579998,"position":7,"preview_image":{"aspect_ratio":1.0,"height":1001,"width":1001,"src":"https:\/\/cdn.shopify.com\/s\/files\/1\/2553\/4640\/products\/11266340210_778880422.jpg?v=1584106184"},"aspect_ratio":1.0,"height":1001,"media_type":"image","src":"https:\/\/cdn.shopify.com\/s\/files\/1\/2553\/4640\/products\/11266340210_778880422.jpg?v=1584106184","width":1001},{"alt":null,"id":5899651612766,"position":8,"preview_image":{"aspect_ratio":1.0,"height":1001,"width":1001,"src":"https:\/\/cdn.shopify.com\/s\/files\/1\/2553\/4640\/products\/11202723738_778880422.jpg?v=1584106188"},"aspect_ratio":1.0,"height":1001,"media_type":"image","src":"https:\/\/cdn.shopify.com\/s\/files\/1\/2553\/4640\/products\/11202723738_778880422.jpg?v=1584106188","width":1001},{"alt":null,"id":5899652202590,"position":9,"preview_image":{"aspect_ratio":1.0,"height":1001,"width":1001,"src":"https:\/\/cdn.shopify.com\/s\/files\/1\/2553\/4640\/products\/11202702909_778880422_b5d097c9-f66f-40fc-aa9d-b9227362f1a9.jpg?v=1584106207"},"aspect_ratio":1.0,"height":1001,"media_type":"image","src":"https:\/\/cdn.shopify.com\/s\/files\/1\/2553\/4640\/products\/11202702909_778880422_b5d097c9-f66f-40fc-aa9d-b9227362f1a9.jpg?v=1584106207","width":1001},{"alt":null,"id":5899652235358,"position":10,"preview_image":{"aspect_ratio":1.0,"height":1001,"width":1001,"src":"https:\/\/cdn.shopify.com\/s\/files\/1\/2553\/4640\/products\/11266316910_778880422_86352899-ff2a-44f8-8a4f-98947ce80190.jpg?v=1584106210"},"aspect_ratio":1.0,"height":1001,"media_type":"image","src":"https:\/\/cdn.shopify.com\/s\/files\/1\/2553\/4640\/products\/11266316910_778880422_86352899-ff2a-44f8-8a4f-98947ce80190.jpg?v=1584106210","width":1001},{"alt":null,"id":5899652268126,"position":11,"preview_image":{"aspect_ratio":1.0,"height":1001,"width":1001,"src":"https:\/\/cdn.shopify.com\/s\/files\/1\/2553\/4640\/products\/11266337025_778880422.jpg?v=1584106216"},"aspect_ratio":1.0,"height":1001,"media_type":"image","src":"https:\/\/cdn.shopify.com\/s\/files\/1\/2553\/4640\/products\/11266337025_778880422.jpg?v=1584106216","width":1001},{"alt":null,"id":5899652300894,"position":12,"preview_image":{"aspect_ratio":1.0,"height":1001,"width":1001,"src":"https:\/\/cdn.shopify.com\/s\/files\/1\/2553\/4640\/products\/11202708930_778880422.jpg?v=1584106221"},"aspect_ratio":1.0,"height":1001,"media_type":"image","src":"https:\/\/cdn.shopify.com\/s\/files\/1\/2553\/4640\/products\/11202708930_778880422.jpg?v=1584106221","width":1001},{"alt":null,"id":5899652333662,"position":13,"preview_image":{"aspect_ratio":1.0,"height":1000,"width":1000,"src":"https:\/\/cdn.shopify.com\/s\/files\/1\/2553\/4640\/products\/11565124994_778880422_37ab306f-d7a6-4320-b5a8-1741e94bfcc6.jpg?v=1584106225"},"aspect_ratio":1.0,"height":1000,"media_type":"image","src":"https:\/\/cdn.shopify.com\/s\/files\/1\/2553\/4640\/products\/11565124994_778880422_37ab306f-d7a6-4320-b5a8-1741e94bfcc6.jpg?v=1584106225","width":1000},{"alt":null,"id":5899652366430,"position":14,"preview_image":{"aspect_ratio":1.0,"height":1000,"width":1000,"src":"https:\/\/cdn.shopify.com\/s\/files\/1\/2553\/4640\/products\/11565136542_778880422_d04415da-43dd-4790-9d62-3926eed23527.jpg?v=1584106229"},"aspect_ratio":1.0,"height":1000,"media_type":"image","src":"https:\/\/cdn.shopify.com\/s\/files\/1\/2553\/4640\/products\/11565136542_778880422_d04415da-43dd-4790-9d62-3926eed23527.jpg?v=1584106229","width":1000},{"alt":null,"id":5899652399198,"position":15,"preview_image":{"aspect_ratio":1.0,"height":1000,"width":1000,"src":"https:\/\/cdn.shopify.com\/s\/files\/1\/2553\/4640\/products\/11565139187_778880422_4c3ca98f-da29-41fa-9d4e-721829627ee5.jpg?v=1584106232"},"aspect_ratio":1.0,"height":1000,"media_type":"image","src":"https:\/\/cdn.shopify.com\/s\/files\/1\/2553\/4640\/products\/11565139187_778880422_4c3ca98f-da29-41fa-9d4e-721829627ee5.jpg?v=1584106232","width":1000},{"alt":null,"id":5899652464734,"position":16,"preview_image":{"aspect_ratio":1.0,"height":1000,"width":1000,"src":"https:\/\/cdn.shopify.com\/s\/files\/1\/2553\/4640\/products\/11635063214_778880422.jpg?v=1584106236"},"aspect_ratio":1.0,"height":1000,"media_type":"image","src":"https:\/\/cdn.shopify.com\/s\/files\/1\/2553\/4640\/products\/11635063214_778880422.jpg?v=1584106236","width":1000},{"alt":null,"id":5899652530270,"position":17,"preview_image":{"aspect_ratio":1.0,"height":1000,"width":1000,"src":"https:\/\/cdn.shopify.com\/s\/files\/1\/2553\/4640\/products\/11635030701_778880422.jpg?v=1584106240"},"aspect_ratio":1.0,"height":1000,"media_type":"image","src":"https:\/\/cdn.shopify.com\/s\/files\/1\/2553\/4640\/products\/11635030701_778880422.jpg?v=1584106240","width":1000},{"alt":null,"id":5899652563038,"position":18,"preview_image":{"aspect_ratio":1.0,"height":1000,"width":1000,"src":"https:\/\/cdn.shopify.com\/s\/files\/1\/2553\/4640\/products\/11666438175_778880422.jpg?v=1584106245"},"aspect_ratio":1.0,"height":1000,"media_type":"image","src":"https:\/\/cdn.shopify.com\/s\/files\/1\/2553\/4640\/products\/11666438175_778880422.jpg?v=1584106245","width":1000}],"content":"\u003cul class=\"a-unordered-list a-vertical a-spacing-none\"\u003e\n\u003cli\u003e\u003cspan class=\"a-list-item\"\u003e[DEEP V-NECK DESIGN]: V-NECK neckline, cross back, Elastic material. Every Detail Design Will Let You More Fashionable and Charming\u003c\/span\u003e\u003c\/li\u003e\n\u003cli\u003e\u003cspan class=\"a-list-item\"\u003e[MATERIAL]: Polyester\u0026amp;Spandex.extremely soft material will make you feel soft and comfortable,no harm for your skin.\u003c\/span\u003e\u003c\/li\u003e\n\u003c\/ul\u003e"}
Deep V-Neck Floral Print Maxi Dresses
Customer Reviews
---
04/26/2020
Nacole Holmes
United States
This is a perfect dress to take on an upcoming trip. The fabric is a very nice quality. Its not sheer at all, wont wrinkle, and drapes very nicely. It will work great for going from the beach to a nice restaurant without having to make a trip to the hotel first. A nice pair of sandals and jewelry will take this from casual to dressy.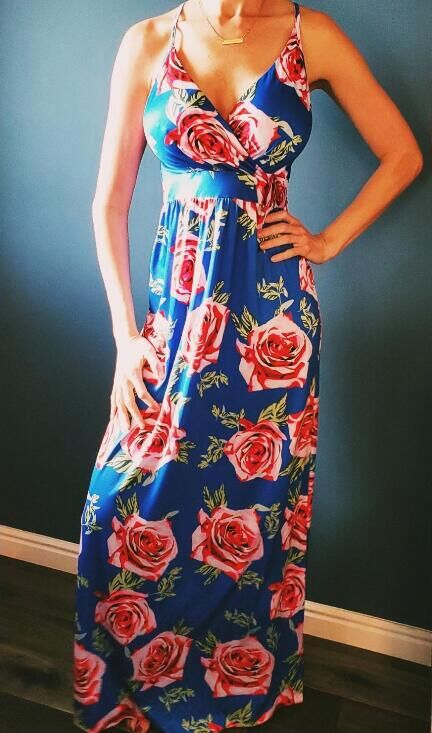 ---
04/18/2020
Kiara Angelbeck
United States
My husband surprised me with this dress for our upcoming trip to stay at a beach resort. I just had a baby a few months ago so finding clothes that look nice are hard to come by. This dress fit my chest without revealing too much and I love the extra length to wear my heels with. The material is amazing! Its stretchy and smooth, not to get wrinkles. The color is bright and fun! Now just to get in shape!
---
05/05/2020
Andrea Clarke
United States
---
04/20/2020
Liz Huizar
United States
Ive been so excited to get this dress! Thankfully the weather has warmed and I was able to wear it right away. I was expecting cotton, but the material was very soft and slinky and really worked. The print is gorgeous, and works great with a cardigan for the office and bare shoulder for drinks. Highly recommended!
---
05/16/2020
Hannah Byrne
United States
Im 57" 160 lbs and bought a medium. Im a bit heavier in the hips than chest, fyi. If youre larger in the chest, you might want to size up. I like the fit and feel of the dress, and its a nice weight of material for warm weather. Love the splashes of color with the white.